---
---
14 days risk-free guarantee

Free shipping worldwide from $40

Available 24/7 for all your questions

Insured Delivery with Track & Trace
---
Description
Looking for a soap dispenser that you don't have to touch every time you wash your hands?
Our Automatic Foam Soap Dispenser is exactly what you need!
With our automatic and waterproof energy saving foam soap dispenser you can easily keep your hands clean at all times! Due to the luscious foaming quality of this product, it is a hit among children of all ages! Hand washing has never been more fun!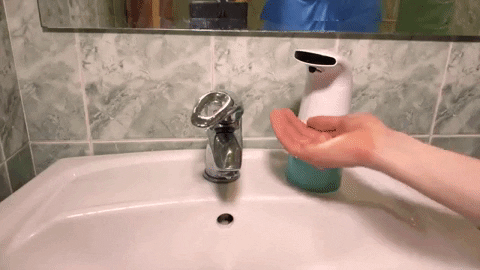 Automatic and Touch-less
Wash hands frequently can keep germs, cross-contamination away, and help to keep healthy for you and your family. Designed with smart motion infrared sensor, it's more healthy and safe.
Energy Saving
The automatic soap dispenser can create fine and rich foam in 2.5 seconds; the energy-saving motor can help you avoid replying battery frequently. (Note: The batteries are not included)
Wide Application
This product is applicable in public toilets, schools, catering and kitchen, medical care, commercial, home, etc.
Easy to Use
Just put your hand under the sensor to start the soap dispenser. When your hands are away from the sensor, the soap dispensing immediately stops. No water or soap drops.
IPX4 Waterproof
The lid protects inner part from being damaged and corroded caused by wet. The battery compartment is easy to install.
Wide Compatibility
Foaming soap dispenser is compatible with foaming hand soap or hand detergent. To dilute liquid soap, 1:3 soap ratio to water is recommended, stir until it dissolved with water.
Ultra-quiet Motor
The foaming hand soap dispenser uses premium miniature high-efficiency motor, power consumption is lower than the similar products on the market, and it is quieter when working. Excellent silence makes children more enjoyable with hand washing.
Luxurious Bubble
The foaming hand soap dispenser uses a micro-foam pump to control the gas-to-liquid ratio. By increasing the proportion of compressed air, the foam's efficient shape and cleansing power are retained. The resulting foam is as delicate as snow.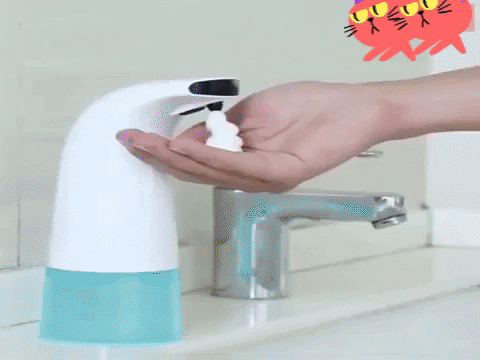 FEATURES
100% High-Quality Material
Relatively quieter due to high-efficiency motor
Produces delicate foam

Applicable in public toilets, schools, kitchen, medical care, commercial, etc.
THIS PRODUCT IS NOT AVAILABLE IN STORES!
Due to the
enormous popularity
on social media, we expect to sell out quickly,
so be quick, because we're almost sold out!
Our customers recommend the Foam Soap Dispenser and we support that with a risk-free 14-day warranty.

If for any reason you don't have a positive experience, we'll do EVERYTHING to make sure you're 100% satisfied with your purchase.

If you're not happy with the Foam Soap Dispenser - no problem. We'll transfer the money back to your account. We have 24/7 email support. Contact us if you need help.
Specifications Automatic Foam Soap Dispenser
| | |
| --- | --- |
| Material | ABS + PC + Electronics |
| Size | 9.5 * 12 * 21cm / 3.7 * 4.7 * 8.3 " |
| Net Weight | 350g |
| Color | White |
| Input Voltage | DC 6V |
| Operating Power | 1.8 V |
| Capacity | 250ml |
| Sensing Distance | 3-5cm / 1.2-2 " |
| Waterproof Rating | IPX4 |
| Battery | 4 pcs AA Batteries |
Package Includes Automatic Foam Soap Dispenser
| | |
| --- | --- |
| 1x | Foam Soap Dispenser |
|  1x | English User Manual |
Our Team Guarantees
Ensures you
safe payment

Ensures you
24/7 support


Ensures you
Satisfaction

Payment & Security
Your payment information is processed securely. We do not store credit card details nor have access to your credit card information.