---
---
14 days risk-free guarantee

Free shipping worldwide from $40

Available 24/7 for all your questions

Insured Delivery with Track & Trace
---
Description
Struggling to remove decals or stickers from your car?
Are you worried about damaging your car's outer coating while removing stickers?
Guess what, our Car Decal and Sticker Remover is the perfect product for you!
Get rid of the damaged, sun-baked decals and stickers in seconds!
Our Car Decal and Sticker Remover is used to remove the large, rough pieces, detail corners, edges and complete the job quickly. It will clear the slate for a new, clean, decal-free surface. It is also a chemical-free and non-toxic method and thus not harmful in any way.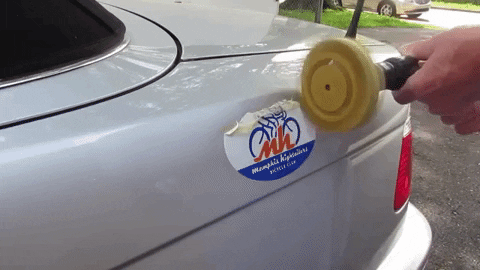 Fast and Effective
Attach the included drill adapter to your rubber wheel and a household drill to quickly remove sun-baked vinyl stickers, pinstripes, bumper stickers and other adhesives from cars, boats, RVs, trucks, trailers, buses, bikes, motorcycles, appliances and more. It is great to use on different surfaces such as paint, chrome, windows, and metal surfaces and car wrappings. Yields amazing results in seconds!
Safe to Use
Will not scratch or harm acrylic enamel or urethane paint. Apply light pressure to the top of the decal, working back and forth until removed. Apply a mild solvent to remove remaining glue and residue.
Non-Toxic
Better for your health and environment, toxic chemicals and skin irritating adhesives are not required.
Fully Compatible with Any Drill
The car decal and sticker remover wheel come as a complete tool kit with a universal adapter. It can be used whether you have a cordless or wired; electric or pneumatic; entry-level or high-end drill.
Easy to Use
It offers the most efficient, hassle-free and fast solution for sticker, badge and pinstripe removal that is both professional and amateur-friendly. Stop wasting your time with hard and dangerous methods that can damage the vehicle's paint and don't work for old, sun-baked decals.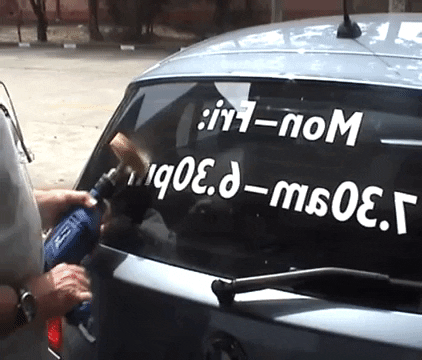 Saves Money
There is no need to purchase extra expensive power tools since this decal eraser will fit any home drill. The decal remover wheel will also save money by avoiding the cost of stripping and replacing paint to remove decals, striping, and stickers.
Features
Removes pinstripes, decals, glue, stickers, tapes, and other adhesives from metal, glass, wood, fiberglass
Won't damage the surface at all if properly used
Simply mount the eraser in any drill that does not exceed 4,000 RPM (recommended speed is 3,500 to 4,000 rpm.)
Safely removes all the old body striping in minutes.
Unlike chemicals and solvents commonly used for this job, the soft wheel is gentle to the finish.
Not recommended for acrylic, lacquer or Plexiglas.
Dramatically reduces time spent on removal of pinstripes, decal adhesive and double face tape
THIS PRODUCT IS NOT AVAILABLE IN STORES!
Due to the
enormous popularity
on social media, we expect to sell out quickly,
so be quick, because we're almost sold out!
Our customers recommend the Car Decal and Sticker Remover and we support that with a risk-free 14-day warranty.

If for any reason you don't have a positive experience, we'll do EVERYTHING to make sure you're 100% satisfied with your purchase.

If you're not happy with the Car Decal and Sticker Remover - no problem. We'll transfer the money back to your account. We have 24/7 email support. Contact us if you need help.
Specifications Car Decal and Sticker Remover
| | |
| --- | --- |
| Size | 4 inch |
| Width | 25 mm |
| Material  | Rubber |
| Application | Quickly removes decal and stickers |
| Type | Abrasive Disc |
| Feature | Polishing Wheel |
Package Includes Car Decal and Sticker Remover
1x
Car Decal and Sticker Remover
1x
 

Power Drill Arbor Drill Adapter
Our Team Guarantees
Ensures you
safe payment

Ensures you
24/7 support


Ensures you
Satisfaction

Payment & Security
Your payment information is processed securely. We do not store credit card details nor have access to your credit card information.