---
---
14 days risk-free guarantee

Free shipping worldwide from $40

Available 24/7 for all your questions

Insured Delivery with Track & Trace
---
Description
Do you have irritating flies buzzing around you all the time?
Did you know that flies carry various diseases including cholera, tuberculosis as well as typhoid fever?

Protect yourself and your loved ones!
Our Fly Trap is a kid and animal-friendly fly control device. It is safe to use around the home, outside of restaurants and in livestock barns. Because you use natural bait, you and your family are free from exposure to chemical fly repellents. Since it is durably constructed of lightweight, weather-resistant wire and plastic mesh; our fly trap can be used outdoors in all types of climates.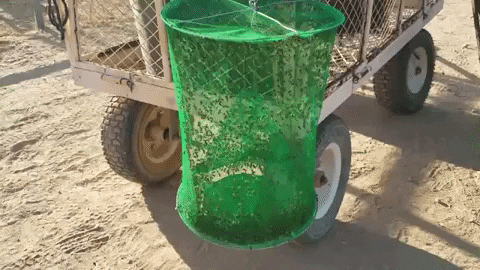 High Quality Materials
This new fly trap is made of high quality, thick iron wire gauze, matched with the eco-friendly plastic bowl, durable.
Easy To Use
This fly trap is easy to use and understand, and traps efficiently. While in use, we recommend to use bait that the flies like, such as fish intestines, rotten fruit and other smelly foods. It can be hung, folded and reused.
Non-toxic
New Fly Trap physically traps the insect, so it's non-toxic, non-radioactive and harmless. It is environmentally and pet friendly.
Comes With Pot
The Fly Trap comes with a bait storage pot, due to the flies like to eating fishy foods, so it is highly recommended to select and put the baitfish intestines, rotten fruit and other foods in it.
Wide Variety of Uses
Fly Trap could be used in canteens, toilets, restaurants, slaughterhouse, garbage disposal field, farms, farmer's market, greening fields, gardens and other public places
How It Works
This is a new take on the flytrap. Use bait to trap flies. The flies that enter the cage die naturally due to lack of food.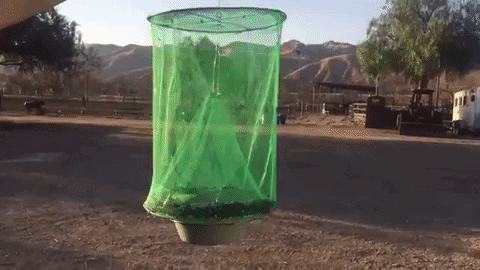 Features
100% high quality material
Easy to use
Environment friendly and non-toxic with no side effects
Widely used in the park, family farms, farmers market, garbage room, slaughterhouses field, and other public places.
THIS PRODUCT IS NOT AVAILABLE IN STORES!
Due to the
enormous popularity
on social media, we expect to sell out quickly,
so be quick, because we're almost sold out!
Our customers recommend the Fly Trap and we support that with a risk-free 14-day warranty.

If for any reason you don't have a positive experience, we'll do EVERYTHING to make sure you're 100% satisfied with your purchase.

If you're not happy with the Fly Trap - no problem. We'll transfer the money back to your account. We have 24/7 email support. Contact us if you need help.
Specifications: Fly Trap
Material

Iron wire + Gauze element + Plastic

Height

15.75 inches.

Diameter
 

9.25 inches.

Bait Basin Material

food grade polypropylene PP ring only

Pests

Flies, Hornets, Bugs
Package Includes: Fly Trap
| | |
| --- | --- |
| 1x |  Fly Trap |
| 1x | Bait Basin |
Our Team Guarantees
Ensures you
safe payment

Ensures you
24/7 support


Ensures you
Satisfaction

Payment & Security
Your payment information is processed securely. We do not store credit card details nor have access to your credit card information.